S5E3 - KarbonuGate
4 months ago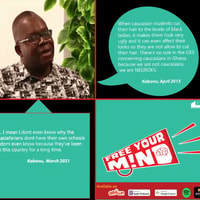 Maya & Comoo talk about the recent happenings in Ghana - two Rastafarians students who were prevented from enrolling in Achimota School becuase of their dreadlocks. 
They also discuss their experiences in high school and whether you will break bank to provide your child an education in an expensive school.
Press Play
Send us your reactions & free YOUR mind ➡️ listentogcr.com/contact-us
Share | Follow | Subscribe
Song Credit : Special thanks to Manifest and Worlasi for use of their song, Okay .
Background music by @KongGeorge
A GCR Production - Africa's Premiere Podcast Network