S5E4 - African Facts Zone, Sponsorship Deals & Airport Wahala
3 months ago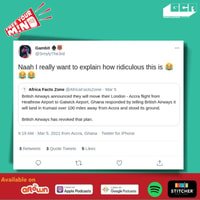 Share | Follow | Subscribe
We have our first guest of the season! - Smyly from After The Whistle Podcast joins Maya & Comoo to talk about the african airline industry and its related challenges.
We discuss a tweet on the recent move by government of ghana against a British airways. Is this move in the right direction or not?
Are we ever going to see a reduction in flight prices between african airport?
Press play to find out
---
Send us your reactions & free YOUR mind ➡️ listentogcr.com/contact-us
---
Listen to Virgil Alboh on the Ethical Fashion Initiative Podcast🎧
---
Background music by @KongGeorge
A GCR Production - Africa's Premiere Podcast Network